Kids Embrace 'Share the Roads' Logging Campaign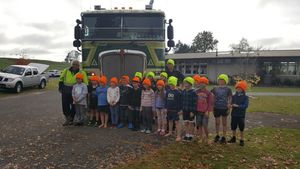 Over 100 kids at the Marotiri School in Western Bays got a truckie's view of dangerous blind spots as part of a log trucking awareness road show.
The Share The Road presentation came to the school on May 10, 2017 and is a joint initiative by the Log Transport Safety Council, HFM and Aztec.
A total of 103 children were put in a logging cab demonstrating where the blind spots are. Bruce Nairn, Scott McCabe and Peter Phillips showed the kids the safety areas, blind spots and gave general information about a logging truck and trailer.
HFM also handed out beanies, rugby and soccer balls.
Aztec was last at Marotiri School in 2013 and some of the kids said their brothers and sisters had seen the road show then.
The Share The Road presentation visits schools in the rural areas where logging is strong to increase awareness for kids.